weekend review: that stoop over on perry
(or why you can have 2 hours of my time but not my $2)
I must confess ... I have a secret love - la gran manzana. Perhaps DC's my residence of choice, but NYC never ceases to be one of my all-time favorite destinations. I think I love visiting NYC much more now that all of the frantic must-do's have long since been checked off of my list. Are there some museums I still have yet to see that I haven't yet? Sure. But no need to knock them out anytime soon.
The train was scheduled to arrive in at 10:29PM. I figured that was plenty of time to arrive in, drop things off at my sister's place, and squeeze in some karaoke action. I told Tam we should make it a low-key evening. She asked me since when did karoke become low-key?
She'd planned to make a run to Buttercup Bake Shop for cupcakes so we'd have them waiting for us. I was trying to find her frantically at Penn Station only to learn (1) she'd gone all the way uptown to find them having closed 5 minutes earlier and (2) she'd been stuck over 30 minutes waiting for one of the two trains to make it over to meet me.
To switch the night over to a better run of luck, we booked it over to Magnolia Bakery. We were pleased to see no line and an open door - all good things.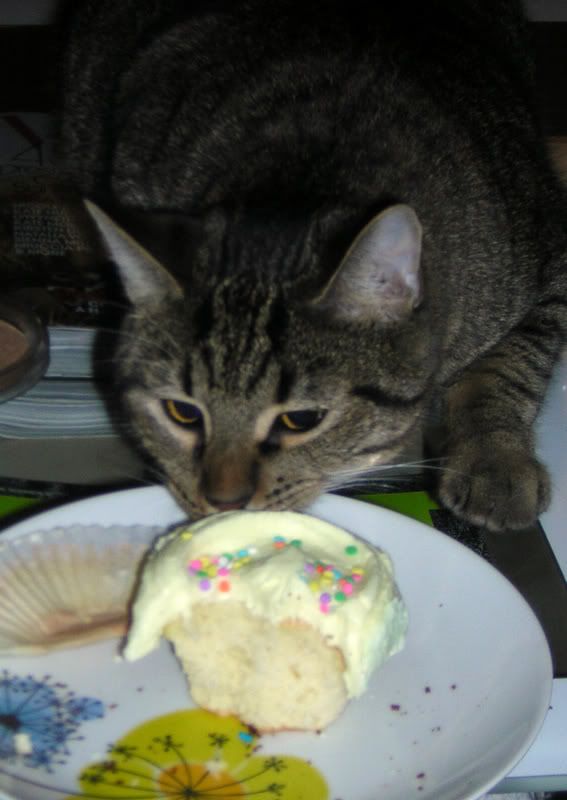 Afterwards it took us a bit to catch a cab (we did make a friend while waiting, as this random guy proclaimed he wanted to carry us over to the other side of the street with his own two hands). After some cupcakes and some $2 Chuck, we were ready for some karaoke. Sing Sing didn't have quite the finnesse of Karoke 1, but it wasn't half-bad. Tam sang some Fiona Apple and I sang some Dixie Chicks. It's always fun when there are people in the bar who get behind you. One guy subsequently invited us to join his group, which was in a private room for his brother's birthday. We opted to pass and instead enjoy watching these two guys bounce from getting down to some R&B to several Red Hot Chili Pepper songs, 'cause the two are clearly so so similar...
Saturday we hit Clinton Street Baking Company. Well worth the 1hr+ wait. Definitely second those recs to get there when they open or if you're staying nearby, carry-out's the way to go. Anyhow, fantastic pancakes and fantabulous ginormous biscuits, proving not all NYC establishments opt for the canned variety (being from the South, we're owning our biscuit snob rights - no shame). We hit the designer consignment store Tam had read about, Tokio7. Shortly thereafter, I had a cute Rebecca Stewart cotton dress for our SATC tour among other items. Niiiice.
The tour was so much fun. The reviews had been positive, with even those complaining a bit on the price loving the tour. The bus was packed, including these girls wearing random neon-colored faux hair clips. Clearly, they were NOT dressing for the tour. Ick. The tour itself though? So fun. We drove a bus around the city, with a guide pointing out spots from filming. She then played the complementary clips from the show on the TVs on the bus. We made a pit stop where Charlotte bought her rabbit. We ate cupcakes from Magnolia in the park in front of the store ('cause *clearly* Tam and I had not had any of those!). We took pictures on the stoop of Carrie's apartment. We had cosmos at Onieal's Speakeasy, which served as Aidan and Steve's bar. It was such a fun girly NYC afternoon!
We then hit up our favorite NYC pizza place, John's Pizzeria near Times Square. We decided we wanted to try Baraza, a Latin bar in the East Village. The mojitos were fantastic and the bartender a trip. He went from salsa dancing to the Latin music to totally going nuts during the random series of Michael Jackson songs.
At the insistance of my co-workers, Tam and I opted for 7A for brunch on Sunday. She was thrilled to see they served breakfast from 2AM-5PM. They had some interestoing varieties of butter, from traditional to strawberry to a fantastic rum butter. Good stuff! We spent the day wandering around in the Village... shopping and just lookind around. The only thing keeping it from being just absolutely perfect was the heat, but we didn't let that stop us.
I was on the last train to DC from Penn Station. Going in, I knew it was set to arrive at 12:30AM. A tad on the later side, but I figured I'd sleep on the train, cab home from Union Station... no biggie.
I arrived to Penn Station to see my train was 1:20 late. I optimistically assumed the one referred to minutes. I was mistaken. Over an hour and a half later after having sat on the super clean cement floor at Penn Station and having fought off the temptation to just curl up, we finally were allowed to board.
I was pumped to find a window seat. I didn't even mind that I learned the seat was mega-busted... you could slide the whole seat out horizontally. Whatever. Mine. I was prepared to snooze, snooze, snooze until these two ladies came up and sat down - one next to me and one on the row in front of me. Grrr. Yack, yack, yack...
I coughed a lot. Cleared my throat. You know, all the usual subtle "hey you, I'm annoyed!" tricks. Apparently the lady next to me was a midwife. She was yapping about how her primary customers were Amish. Amish and oh yeah, the Anarchists! Something to do with Social Security Administration.
I've left out the best part. I don't think she'd showered. Not just that particular day. In like at least a week. Maybe hadn't showered ever. All I know is I smelled her long before I visibly had a neighbor. She was wearing what was close to the satin attire of traditional Indian dress, but she was not Indian. She was just earthy, stinky, loud midwife. Finally after I drowned her out with my iPod for a bit, she ran out of stories.
Right then, the A/C kicked into overdrive and any hope I had of sleeping was dashed by my shivering limbs. Just then, I noticed her somehow tuck her legs underneath her rear and drape her body in some random means, a "pose" which she would hold for the remaining 2 hours of the journey. So add contortionist to the above listing. I was clearly heartbroken when she exited the train with her items in downtown Baltimore, leaving me with at least a slice of the journey to enjoy just the regular, oh-so-fresh canned train air.
We pulled into the station around 2AM. From nowhere, I all of the sudden came to life and made a mad dash to get towards the front of the massive line for cabs. The cabbie was visibly annoyed when he couldn't squeeze another warm body in to head to NE. At that late hour, my sympathy was not brimming over.
We pulled up to my place and I handed him the smallest bill I have. He asked if I had anything smaller. Ummm no, I said. Not unless you want $3 for the whole trip. All of the sudden, he randomly claimed the trip was three zones and not 2 (lie). When I told him no, I've done this before and you are wrong, he started babbling.
"Well," he said. "I forgot - extra charge for luggage." Um, no. For a duffle bag I could have sat beside me. A duffle bag I traipsed all over Penn Station with for some three total hours. No. Sorry. You don't customize your fare based on what you happen to be able to offer.
"No," I said. "You owe me more money. That's just sorry. You are making this up as you go along" I was tired. Calm and collected? Out the window. I was shaking. And emphatically arguing (ok, borderline yelling).
It was apparent that this was going nowhere and the extra $2 that this jerk didn't deserve was never going to be mine. In my hand, I had a hodge podge of one dollar bills and quarters that comprised $2 less than what was rightfully mine - since at this point, the tip rightfully his was $0.20 and a recommendation to change to a non-people-related prodession. I finally reached over to open the door, just tired if this man and wanting him to be g-o-n-e.
I wanted to write down his info and turn his sorry self in, but I know the drill. You practically need a hair off their head, a fingernail clipping, and their right kidney for that to go anywhere. I am now motivated to find that list of details. Once I do, you know where they will be posted.
As I stepped on the curb, I thought I had left my keys on the seat. I reached back in and he barked "you have everything."
"Um, no - don't tell me that. You don't know that," I said. "You can wait a second so I make sure I have my keys. Even if you are sorry, you are going to do that. You don't get to rush me."
I walked away and he did a u-turn. I shot him a look of death. I hope he enjoyed something fantastic with that unwarranted $2. You know, perhaps two fine menu items off of the fabulous McDonald's dollar value menu. Perhaps two cups of fine sweet iced tea but that would assume some touch of taste.
Grrrr.If you see a cab saying "Iron 17" on the side, just say no. But no late trains, contortionist B.O.-riffic passengers, or thief cabbie can ruin my fun trip to visit my sister in her new East Village pad.
As the bartender at Baraza would have lovingly sang... A, B, C... easy as 1, 2, 3...
I'll be back.