riding sideways, taken in by the scenery
Well, after years of it being on my list, I finally made it out to California. And just before my time to do so ran out... turns out, AW's husband is going to be changing jobs and they'll be moving from sunny Orange County. I came one month shy of missing the trip!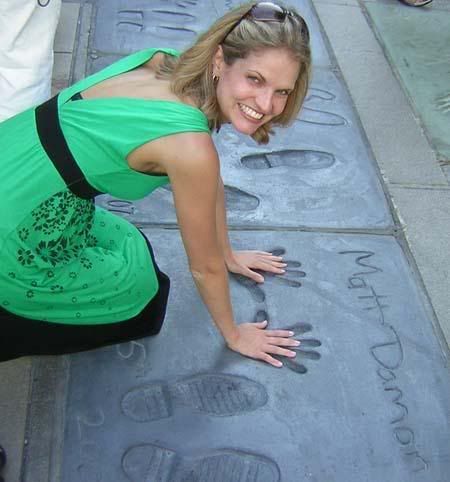 The trip was so much fun. I'm still dragging from the timechange, lack of sleep, and the like, so this will be a brief one. So what did we do? We tried
California cuisine
. Checked out a local
wine bar
,
where the worker accomplished her goal of getting me to think I might not hate all merlots
. Visited the
Santa Monica pier
, including a ride on the ferris wheel with its fantastic aerial view of Santa Monica. Shopped up and down the Third Street Promenade, enjoying a nice Italian lunch at
Trastevere
. We headed to Hollywood, stopping to walk up and down the
Walk of Fame
on Hollywood Boulevard and feeling sufficiently touristy. We went into the Kodak Theatre and to the shops in the Hollywood and Highland Center. We had a dinner of fantastic appetizers at the
Grill on the Alley
, after getting past a snooty hostess who seemingly scoffed us for not having reservations, who proceeded to walk us in through a sea of empty tables. Interesting.
We woke up super early (3AM) to venture Southwards to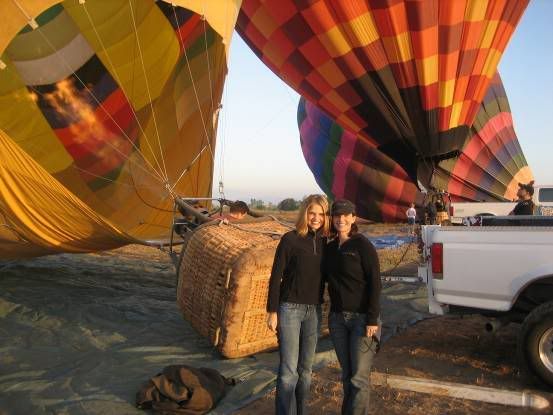 Temecula, which would be the personal highlight of my trip (so well worth going into the red on sleep). Our flight was with
Grape Escape
. So much fun, it was easy to forget we were floating around in what amounts to a larger, heavier version of a wicker basket up to a maximum altitude of 3,000 feet. Nice! After our champagne toast at
Wilson Creek Winery
(I highly recommend the
almond champagne
for a mean mimosa - and I don't particularly care for champagne, FYI). From there, it was brunch, wine tasting, and a little pool-side napping at
South Coast Winery
. It was then back to Wilson Creek (now that it wasn't 6:30AM-8AM and they were open...), where we ran into the most classless bachelorette party. They sadly did not come with volume control. We wrapped up our Temecula run with a stop at
Ponte
, a really nice winery with a beautiful al fresco restaurant overlooking their vineyard. Absolutely exhausted, we capped off our evening with a fabulous California Mex dinner at
Miguel's
, followed by catching the early evening showing of
I Now Pronounce You Chuck and Larry
, which was funny enough to even keep our heavy eyelids open!
We went to Laguna Beach. Enjoyed lunch overlooking the water at Las Brisas. Took in the artsy atmosphere of Laguna, from cute shops to fabulous galleries. Trip back to DC included a layover in Las Vegas. While my first visit to Sin City did not include venturing into the city, I did manage to squander $3 on slot machines (Wheel of Fortune - in light of my mother's stint on the show back in its first year, I thought it was appropriate) only to watch a man win $10,000 around the corner. For two hours, I slept on the cold hard floor in Las Vegas to make the most of my delayed flight. And it was good sleep at that. After 2:30AM, I boarded the plane and was en route to the East Coast again.
11AM I walked in my doorway, luggage in hand (muuuuuch heavier than it left out) and eyes heavy from the overnight flight. Thankfully I didn't originally decide to opt to head into work post 7AM flight, so no issues when my now 10:20+AM arrival left me in no shape to head into the office. I tried, unsuccessfully to head to bed, so instead I headed to run errands. What was the top of the list? Purchase two DVDs... Pretty Woman and Sideways. Go figure.
"I want the fairy tale." - Julia Roberts, Pretty Woman
Labels: california, travel