snow? formal? no problem.
let the vacationing begin...
Ahhh, vacation. Can there be any complaints from this direction? I arrived into Chicago at the bright hour of 7AM on Saturday morning, with all baggage in hand. I will admit to being a bit concerned as I was waiting patiently for my luggage to circle on the belt. Looking to each side of me, there were very few others doing the same. I thought I perhaps was in the wrong place. Or maybe that my luggage had not made it (in which case, I would be ok at least up through the formal, having -- yes, obsessed much? -- carried my formal, shoes, hose, etc. in a shopping bag on the plane). Turns out though that our plane was mostly carrying a group en route to Colorado to go skiing, so they were obviously not waiting to pick up their luggage but were instead connecting on to hit the slopes.

I'd only had a small cup of Diet Coke, so I was not exactly perky and ready for the day. The Titan had recommended a great driver to take for the ride from the airport to Evanston. Al was perfect... conversing from time to time, but also not pushing the sleepy-eyed Southerner to talk too much for the early hour. By the time we rolled up to the front of his place, I was slowly coming 'round. It was nice to see his place. It's funny to think about having known someone and never having seen their place. His place was not extremely decorated, which is pWe headed over to this coffeeshop around the corner (where I am conveniently now sitting typing away - although I learned a new trick on the way in - posting via email on the Blackberry), where a latte later I was certain I wasn't going to be crashing out for a nap anytime soon.
Our plans of heading to his friend's place prior to the ball didn't pan out. With the snowfall increasing (these big fat flakes definitely put the snow-induced madness in DC to shame), we ended up opting just to schedule a cab to take us to downtown Chicago for the main event. I did learn though that a wine opener is optional. Having left all of his dishes in Huntsville, we found ourselves with the two bottles of wine and no wine opener. One pair of pliers, a small mound of cork, and a lot of whittling away later, this 'bamian had managed to annihilate that issue. LH and I had decided over our Delaware weekend that the Sauv Blancs from New Zealand were the way to go, and this one did not disappoint as well (even with the few stray remnants of cork...)
shake it like a polaroid picture...
Doning my latest formal purchase, we made a dash for the cab. Times like this, I develop a momentary envy of the warmth of a man's suit. That alwats I'd been to a formal where it was cold out, but snow was a first. It was really beautiful to watch it falling around us though from the warmth of the taxi.
The event was Northwestern's Charity Auction Ball. There were all sorts of auctions -- both silent and live. Some of my faves were the Bollywood lessons (awesome), the wingman/wingwoman offerings, or any of the ethnic cuisines cooked for you at home (although the way some of them were phrased, it sounded a bit wrong... . It was understandably the focus of the center of the dance floor for the majority of the evening, but it was nice once the auctions wrapped up and the dance floor could focus on the dancing. I wasn't sure if the Titan was going to be down for some dancing. I was hoping I wasn't going to
have to drag him out there, but when Sweet Home Alabama came on, there were no questions...

I love dancing, but I'll admit to not liking to dance as much to songs I don't know. Thankfully, to close out the evening for the final hour, the DJ was playing all of those great dance faves, from Bon Jovi and Michael Jackson to the perfect closer,
Journey
(insert mental image here of me, listening to this file, head bobbing from side to side in the cafe window... oh yeah, I don't care. I've been making friends here in the cafe, haha). It was a perfect night. It was around 1:45 when we arrived back to his place. Even though it was a shorter night than New Year's, definitely doesn't mean less eventful. I'd definitely prefer hands down any day.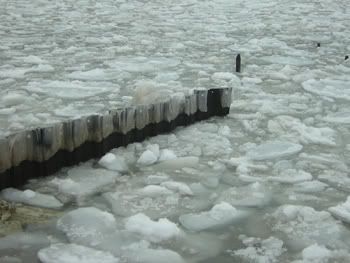 Yesterday it was still snowing... slush and snow galore. We'd discussed taking the Metra in to the city, but we ended up opting instead for a walk to downtown Evanston, a quick tour of part of the campus, and just chilling at Barnes and Noble. I managed to get interviewed by a Northwestern journalism student while at B&N (hopefully my views about anti-gay comments, comments on gay marriage, etc. won't make it to publication), get hit on by some guy who looked like a hobo (cracked me up... "hey beautiful" and "do you work out?"), and make friends with the cashiers who emphatically approved of my selection of David Sedaris' Me Talk Pretty One Day. We ended up discussing my current fave of his, "Six to Eight Black Men" in his book "Dress Your Family in Corduroy and Denim", a summary of my favorite Amsterdam tradition of Sinterklaas.
Ok side note here... I must admit, I'm very excited to have just found this version of David Sedaris reading this story... this is awesome. You have to check it out. Oh my gosh! My day is made. I think I'm going to cry (from laughter)...


back to present...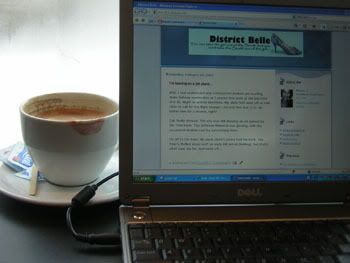 Ok, back to my book. Maybe I'll get inspired to head to downtown Chicago at some point. Right now, this vacationer is enjoying watching the snowfall from indoors, reading my book about an unorthodox childhood (Running With Scissors), and watching Oscar red carpet specials I opted not to watch last night since I was too engrossed in rounding out Season 2 of Scrubs.
Labels: chicago