table for one, or why insulation ≠ art
My last visit to downtown Chicago was all about my training course. Training course along with the occasional post-course escape to the Miracle Mile. I was determined that this trip would include more than work courses, coffee breaks, and drooling over Marc Jacobs latest concoction.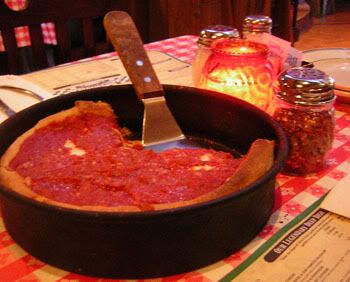 Don't get me wrong. Today's adventures did include a trip to what I fondly used to refer to as the mother ship (AKA

Bloomingdales

). However, my focus was on other things I'd yet to experience in Chicago. Ironically, my last trip to Chicago did not include having real Chicago style pizza. If my memory serves me correctly, I believe I had something close, but not quite authentic. This time, I made sure to make time for a trip to Gino's East. As the host typically does, they tried to direct me to the bar, but I'm a table kind of girl. Yes, I want a table for one. A table. The pizza was quite good, although definitely much heavier than the thin crust variety I usually opt for. I know it would pain the Yankee to hear me refer to Chicago style pizza as great, but I think Chicago and NYC style are just so different. I don't want to commit to either. I'll take a slice of each please (with red pepper). Thanks.
So there are two museums that interested me. Each conveniently are open late one night a week. Today was the day that the Museum of Contemporary Art was open late, so I thought I'd start there. I'm hoping that the class wraps up early on Thursday as they usually do and then I can make stop number two at the Art Institute of Chicago, which is the museum I anticipate liking much more.
The Rudolf

Stingel

exhibit was not my favorite.. a hard time stretching to call some things art.

Smooshed

insulation

just doesn't equal art to me. Anyone disagree? I'd really love some thoughts here if anyone has any. However, I really did enjoy the exhibit on the fourth floor that just opened on the 24

th

called "

MCA

Exposed: Defining Moments in Photography, 1967-2007". One of my favorite pieces was by Alfredo

Jaar

titled "Geography = War". It was a unique piece of these light boxes suspended above some 36 water filled oil barrels. They showed four photos of the faces of the inhabitants of a city in Nigeria. The placard explained that the motivation behind the work was an incident where 35 tons of toxic waste had been released into a city called

Koko

. The barrels were labeled as toxic, but the locals had agreed to house the chemicals in exchange for I believe it was $100 per barrel. It was a statement about the dumping of waste in Africa and parts of Latin America. Very visually impressive... and very interesting way of communicating the message.
After a bit of wandering up and down Michigan Avenue, it was back to the hotel for some downtime... some Sex and the City... some friends... good R&R. Tomorrow though it's time for class, since after all I guess that's why work sent me here. Although, I prefer to think it's because they wanted me to have the chance to dust back off my black heels, pull out a new formal, and pull an old friend out onto the dance floor. But that's just me.
Labels: chicago