as courtrose place turns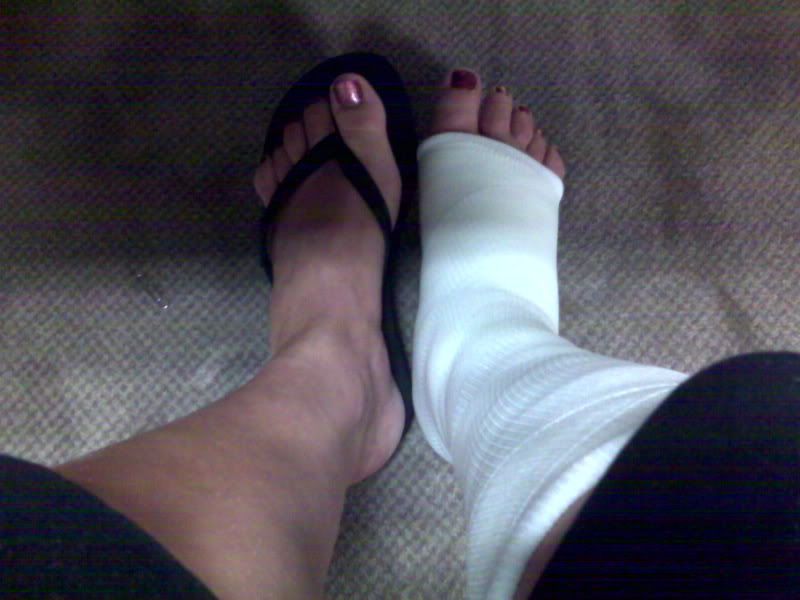 I was quite tired last night when I arrived back home. The doctor confirmed it's a fracture in one of the bones on the top of my foot along with a badly sprained ankle. End result? Lovely plaster cast for 2 weeks, walking boot/cast for another 4 weeks, and then 6 weeks of therapy. Beyond that, he's going to work with me on what we need to do to stop this cycle... since he said this shouldn't be such a chronic problem for me. I was pretty impressed with him. If anyone needs a good orthopedic surgeon, just let me know. I have a name now to share haha. Oh and after this, I promise the random shots of my feet will stop being included. I never broke anything as a child, so this is my first cast. Boring and plane jane - yes, I know. But I guess at 27 you're considered to be past the threshhold of being offered the hot pinks and electric blues of the world.
The Fashionista was a saint and gave me a ride from my office back to my apartment. After the long day, it was absolutely a luxury that was muuuuuch appreciated. While there, she signed her lease for our 'hood. It's official. We're now living in Courtrose Place. Ahhhh. Let the drama ensue ;-) After all, can't beat such a high percentage of your friends living in such a small radius. I'm about to get spoiled.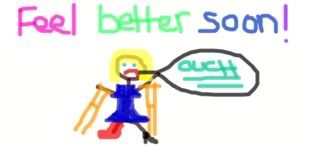 I discovered my old boss also commutes in to my office passing right by my place, so I have a way in and out of work now. My arms, ribs, and lower back are jumping with glee. I just can't say enough about all of the kind people I've been encountering. The people opening doors, helping with getting my Diet Dr. Pepper and my iced lattes... all the little things that add up so much. Even the sweet drawing I positively LOVED on my Facebook graffiti wall by the Tour Guide. Very fabulous.
Tonight's plans are the only of the week I haven't nixed. I'm off with the ladies to restaurant week. I'm 99.9% sure I'm not ordering steak and considering it's a steakhouse, I'm thinking I'll be getting the traditional odd-ball look. Oh well =)