fine hats, sundresses, southern food, and horses
I finally got to experience the
Virginia Gold Cup
first-hand, after having heard about it practically since I moved here. Some of you will appreciate that the event was Daily Candy worthy as well It was so fun to have an excuse to get all fixed up in a dress, complete with hat, and bask in some of the finer Southern things.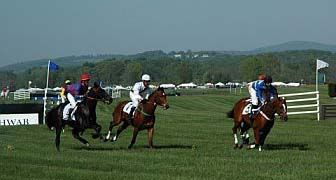 We had a big group of us that caravaned out in 3 cars to Warrenton, VA. It was a long day of hanging out with friends. Thankfully, the rain held off. We had quite a spread set up though... with ham & biscuits, homemade derby and sweet potato pies, cheese... you name it. Lots of great Southern comfort foods. Only the mint juleps seemed to not make the trip from car to our spot, but we didn't let that put a damper on our day! Tx Dem's friend - CanChef, who's the executive chef at the Canadian embassy, even rounded out our assortment with some Canadian food, including some great smoked salmon.


It was basically upscale tailgating where the sport of choice happened to not involve touchdowns. We did go down to watch a little of the races and I happily snagged some great photos.
I would say more, but I'm pretty beat -- but just thought I'd share some background on the new photo of me in a hat. Hah. I always hate the way I look in hats, so to throw this one up in everyone's faces means I think it's pretty darn nice. If you disagree, shhhh... no room for your negativity here.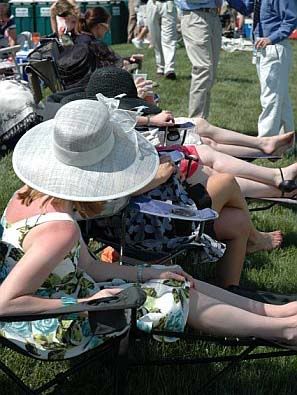 And now, off to crawl into bed (yesssssss...) and watch some Grey's Anatomy.