jenny says it's the weekend in review
the name of the band is COWBOY MOUTH!

I was joking on Saturday morning that it should be called the 9:30 Sports Club. Great calf work-out I tell you... Friday night we went to the Cowboy Mouth concert, with a pre-concert stop at
Cue Bar
. I thought the bar was a bit hidden (um am I going to 7-11?) but once I found it, pretty cool spot. It was just a short walk around the corner to 9/V. I'd been curious to check out 9:30. The only other general admission venue I'd been to before was Rick's in none other than Starkvegas, where I'd seen fabulous band such as the Charlie Mars Band, Better Than Ezra, and the Velcro Pygmies.
We had a good sized group as we went over to the venue. I first heard of Cowboy Mouth when I was in college. I remember sitting at one of the fraternity houses listening as an on-and-off-again crush strummed a guitar and sang one of their songs. I was hooked. This was back in the hey-day of Napster, so of course I had to go back to my room and download the song (Jenny Says). Up until a few weeks ago, that was self-admittedly the extent of my Cowboy Mouth repertoire. They're really a Southern rock band and after having seen them live I agree with the hype that they are definitely a live act. They played a really long set and we were all ready to collapse I think at the close. I'm so glad that the Fashionista extended the invite from her Southern Jewish cluster to include this Southerner.
pass me that pom pom mister...
Saturday began a bit slowly... I first rolled over at 11 (the beauty of waking up sans-alarm clock). The evening began with a trip to my fave, Lauriol Plaza. I spent dinner catching up with the Tour Guide, who I haven't seen since New Year's. I know when I first moved to the Hill, I'd said the move across the city wouldn't make it harder for us to hang out, but sadly I think it's made it so we see each other a little less frequently. Something I'll have to work on. We'd aimed for an early dinner since I wanted to be at my party by 8. We were so committed to the cause that when they said an hour wait or the heated patio out front, we opted for the heated patio - twenty-something degrees and all. We kept on our jackets and enjoyed our frozen margaritas just the same. It was great to hear though that things are going so well with her and her new beaux, who she met randomly at a bachelorette party in Michigan. Love stories like that.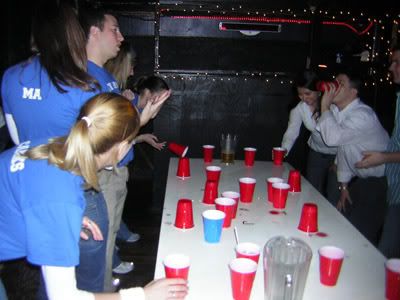 The Fashionista and I were worn out from the concert, but rallied anyhow for a trek out to Adams Morgan. I usually don't make the trip unless I'm planning on spending a lot of time there to make the most out of the trouble to get there. Saturday was definitely an exception. We met up at Lauriol Plaza and headed to Nolan's for MH's "Flip Cup Fiesta" party (love the name). The Fashionista was to have been my co-cheerleader, but we sadly missed most of the big tournament. Have no fear though, there was more flip cupping that would be done. One of the guys there was pretty cute, but I think we lost our lustre when we weren't down with flip cupping with the rest of them.
We then headed over to Adams Mill for one of Viv's friend's birthday celebration, but we were just too mellow for AM. We were hoping to rally for another party at 18th Street Lounge, but we just didn't have it in us. As I was riding in the cab, I must say it never ceases to be annoying that cabbies talk on their cellphones the whole time they drive you home on their headless earpieces. The whole time home I kept thinking that the driver was talking to me in non-decipherable English only to realize he was mumbling in some other language to someone on the phone. I kept politely saying "what?" only to realize he was not talking to me. Very obnoxious!
crock-pot chili craziness
The Domestic Goddess had suggested

doing a Super Bowl party when I ran into her in the hallway at home Friday morning. Sure, why not? She was all excited to make chili and I decided I'd make some homemade salsa and guacamole. We ended up with this whole TexMex theme, which worked well. Our guests teased that guys needed to get on the bandwagon with our approach to Super Bowl foods.
We ended up with three different types of chili -- enough chili for a small army. We had a nice small group and cranked up the surround sound to it's max. Not too shabby! Loved seeing Billy Joel sing the national anthem. I'll have to admit, I was not too into the idea of Prince doing the half-time show. I was really surprised though... he really did put on a show. I think Dr P. even put down her arts and crafts project (she was adding fringe to a curtain throughout the game) to watch him do his thing. It never ceases to amuse me to see a guy in platforms. Blue ones, nonetheless. We did have some interesting conversations. If anyone's reading this and played football at some point, do the players wear underwear? This was a big point of contention we'd like to clear up.
Overall, gotta say I was not very impressed with the commercials. In fact, I was so bored with them I almost found myself watching the game. Kidding, but seriously, not the same as I remember they used to be say five years back. Definitely not money well-spent. I did love the Bud Light one featuring Carlos Mencia (hey feller... give me a Buuuuuud Light!) did really like CareerBuilder's ones featuring office survival of the fittest (it's like the movie Office Space... how can anyone working in an office not appreciate it?).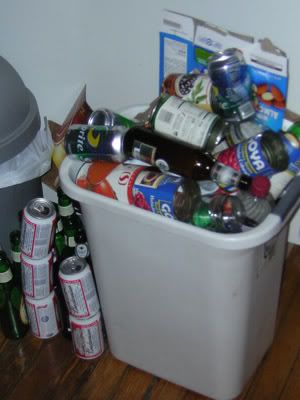 After the game wrapped up, the DG and I went to town cleaning up the place. Sadly, since the city has yet to deliver our third, bright shiny lovely blue recycling bin (still a sore spot there), the saddest part of the evening was watching our "make do" bin fill to the brim (there's more elsewhere in the kitchen), making our kitchen area look oh so frat-boyish even once clean. Argh. We're beyond the point of being able to drop a bottle in a neighbor's bin here and there. Most definitely way past that. If only the trash pick up crew would be open to picking up recycling in another container. Are they? Not so much.
Labels: adams morgan, concerts