call me daisy duke
The stress of planning a high-class soiree like a Trailer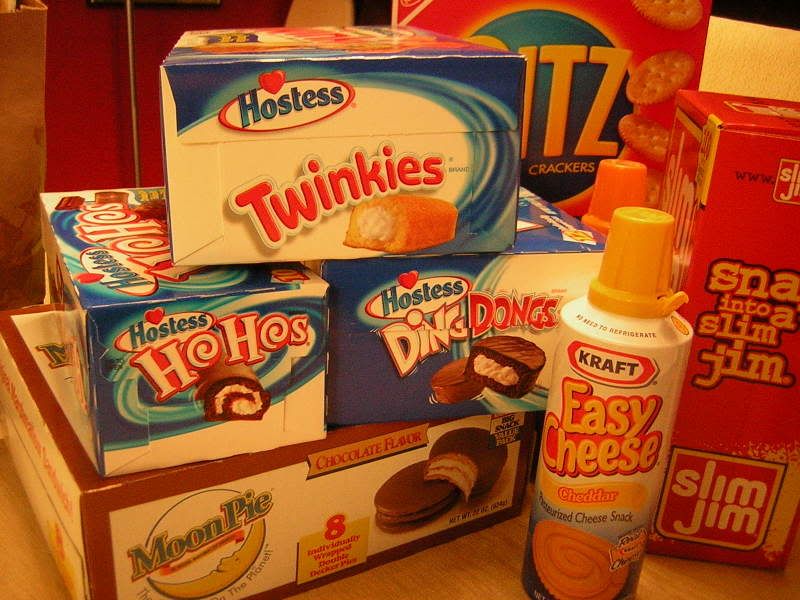 themed party. Today I made a Safeway run to stock up on some "supplies" for our upcoming "Trailer Trash Throw Down". My contributions thus far consist of Ding Dongs, Twinkies, Ritz crackers, and E-Z Cheese. The snack foods of champions. I was going to try to find some busted boxed wine a la Franzia. Still to be purchased are such fineries as pork rinds, RC Cola, and perhaps some Spam, cause why not? The line-up of food on our kitchen table is looking mighty classy. I had to take a picture, just because it was amusing me way too much.
I'm very sad to be going back into work tomorrow. I thought a week away would set me up to be ready to dive back into things tomorrow, but I find myself feeling anything but. The upside is that there's only now two weeks until I'm headed out yet again, this time for Europe. I realized today I've been slipping on my travel planning duties. I had to dust out my Prague travel guide and I'm trying to get my act together to sketch out plans for the days we'll be spending there. Gotta be that perfect balance between churches, museums, and the ever-present shopping.
Today it is Sassy's birthday. Happy birthday, Ms. Sassy! We roommates just celebrated by eating the last three pieces of Sassy's faaaabulous chocolate cake. We had a pre-celebration last night, which included a fantastic dinner at Starfish Cafe (which, you'll recall, I was worried about making -- I managed to shower and only be 30 minutes late, an accomplishment I was very proud of) and then on to meet up with others at Finn Mac Cool's. The band at Finn's was a bit overpowering. It was pretty funny though that all the band members were short. As tends to happen after a few drinks, we were teasing a bit and were joking that the band came with a height requirement... sorta like a reverse of the signs on roller coasters. D had been at a St. Patty's bar crawl, so was donning his finest in primary green, including the top hat and glasses, which photographed as mega-bright green with an eerie glow. There were a couple of other parties there as well. We mingled with the parties upstairs, but were feeling the need for a shift.
We opted to check out the Mug next door once our eardrums were maxed out. There we found the comfortable usual chill environment, which was a nice way to round out the evening. The DG was fading, having given up alcohol for Lent (still need to ask her if that means that she, the wine connoisseur, will be wineless as well!). She soon checked out along with D (and his crazy sparkly green hat) and the Fashionista. Sassy and I hung out a bit longer. She made friends with some guy from Dakota (can't remember if it was North or South). The highlight was when he tried to offer her part of his stuffed pepperoni roll... which was this big fat long calzone-ish looking thing. Did he have silverware? Nahhhh, clearly optional when dealing with something large, greasy, and oozing with cheese. The look on Sassy's face was classic as she informed him no, she would not be taking him up on that. There was also one guy solo dancing at the bar, which was pretty awesome. Hope Sassy had a good birthday... we definitely had a fun night as always on 8th.