weekend review: leis, chili, & ballllllston...
(or
Jungle Bash
, Part Deux...)
Got Chili?
My understanding is it began as their answer to the $35/$40 ticket prices attached to
DC's Chili Cook-Off
. While there was no line-up of live music, there was the favorite 80s/90s party rock on rotation, complete again with the dancing flower in front of the speakers. Last year's celebration took it to the parking lot, with the party going from the houses out fully into the parking lot. Apparently "the management" squelched that from this year's offering, although I don't know that it was altogether too different. Upon walking up, you knew where to go. Like Jungle Bash, I'd heard plenty about the Chiluau in advance and was looking forward to checking it out, The party was the whole cluster of the four townhouses that were clustered together, with people out in the back spanning the whole "party runway" in between (AKA the sidewalk running back out into the parking lot).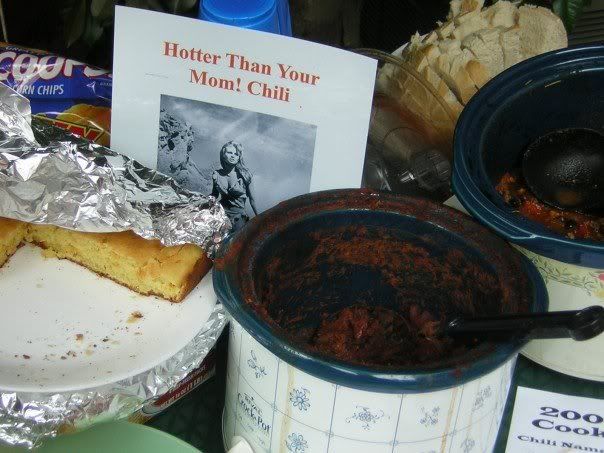 The prime line-up though was the crock-pot line-up. It was a virtual buffet o' chili. I was a little concerned coming in. I don't like beans. I like my chili sans-beans (and I'm part of a select few that roll that way). I thought it might be hopeless when I saw D's comment on the Evite, stating "Attention Hippies: There will be vegetarian chili available. Please take Beano before the party". However, I was pleasantly surprised upon arriving to see the spread in variety, even including chicken. Aweso,e.
Fire it up!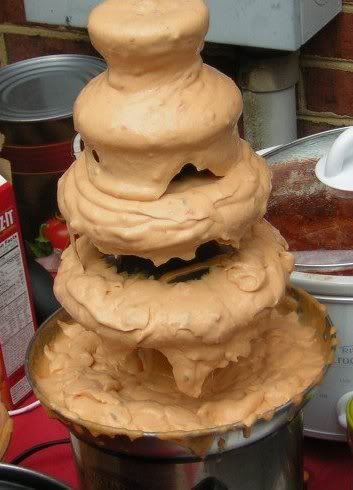 There was actual voting on different categories. Tastiest... spiciest... most creative... best presentation... even a write-in category (my selection was best naming convention). The names were hilarious, including Derrick's Frickin' Chicken Chili, Hotter than Your Mom, Traci's Trucker Chili, and Becky's Bustin' BBQ Chili. My favorite name though was Stinkin' Hippie. It wasn't just Stinkin' Hippie. It was Stinkin' Hippie v. 2.0, stating "No animals were injured during the creation of this chili. Chili does not stink." Good thing I wasn't up from Miami visiting, seeing as the ballot upfront disqualified Floridians from voting. Guess they were aiming to avoid any potential hanging chad fiascos. Best presentation for us was clearly the Velveeta-y masterpiece here at the left. It started off chunkily sliding from tier to tier, but was soon rolling off like buttah!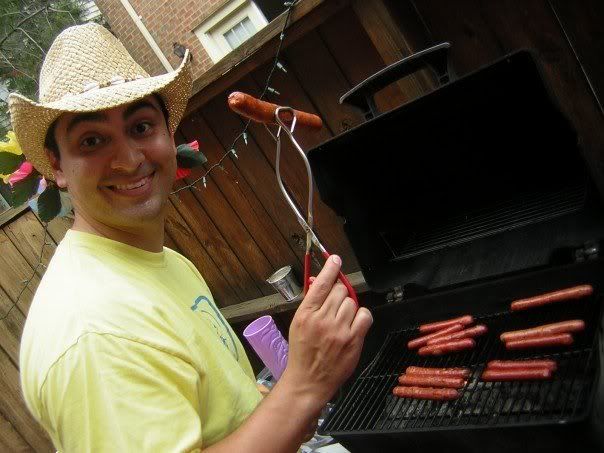 The host was manning the grill, which definitely got Sassy and I thinking of learning how to tackle our own grill. She's got plans to take it for a test drive before we commit to a formal cook-out at our place. Thank goodness warm weather is here at last. It looked for a long time like the afternoon showers were inevitable, but thankfully they held off for the bulk of the afternoon. It was the perfect day, even if we were in Ballston... (kidding).

"Look at you, you have a baby... in a bar..."
We had a good crew... Sassy, WT, MsH, Buckeye, among others. There was an ecclectic crowd at the event as well. It was hard to keep up with who knew whom from where and how... with people going in and out of four different townhouses, all of which had I believe some four tenants. You do the math! I was surprised though to see a 3 week old baby there, even though yes, it was a cook-out in the afternoon. Something I guess struck me as ironic about that, as I weaved my way in front of the keg (?). One of the partygoers managed to catch my initial flash of confusion on that and I'm guessing that's a Kodak moment that will shortly be surfacing.
Of course, we started taking pics. D was wearing a straw hat with clip on flowers, similar to what I'd planned on making but ran out of time to complete. He was happy to contribute to the cause, so shortly thereafter we had flowers to complete our pics. Nice.
The event started at two though so around 5:30, we decided it was time for a change in venue. Sassy'd headed out with a couple of others to a party out in Rockville/Bethesda. I said um no to that hike, but WT and I decided we could handle hitting some spots on the Hill. MsH gave us a ride to the metro. En route to her car, WT decided to snag a photo of the pimped out Transmero we'd passed walking to the party.
Of course, the guys working at the auto store decided to come out and talk to us (clearly, when you have loud floral print on, it's kind of hard to blend into ones surroundings). He told WT it was for sale, and she was trying to hold back laughter as she told him thanks, we'd keep that in mind. Guess you had to be there, but yeah, pretty funny. So funny MsH was tearing up!
Back on the Hill, WT and I ran into E2 en route back to my house. Why is it when you are dressed in random theme attire that you all of the sudden manage to see a whole slew of people? He was headed out with some friends and we made plans to meet up later. In between wading our way around through three different massive downpours (spread out just so we'd be drenched and dry out and then drenched again - nice), I managed to show WT quite a line-up of Hill faves... from Finn's to Banana Cafe to the Lounge. Might make her a Hill rat just yet!