and the low key trend continues...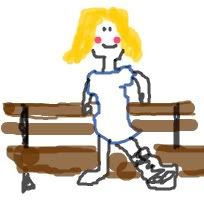 As I'm gearing up to pack for the reunion this upcoming weekend, it struck me some of the upsides of being in a cast. I'm a big time shoe afficionado. I just realized space required to pack said shoes gets halfed when you only need one of the shoes. I thought of an alternate pair of shoes to bring in place of the original cute high-heeled sandals I'd planned on wearing. I was sad to only find one of the two sandals until I realized, perfect anyhow - I'd found the magic left shoe!
Lovely drawing, by the way is courtesy of my sister... it's me waiting for the bus or, as is more likely the case these days, a ride from one of my super fabulous friends who've made this experience significantly less painful.

I've been frantically trying to clean and organize the place. I'm ashamed to admit to some of the stuff I've thrown out, although loving the vacant areas that have been left behind post-purge. The slow trickle of guests have also been a catalyst, along with the supposed arrival of the Titan come Thursday evening.
Last night though, I felt fifteen again. I went upstairs to the Mack's place where, along with the Fashionista, we proceeded to watch the season premier of The Hills. I took the elevator up to their place, post bath and in PJs. Lovin' it.