weekend review: reunited & it feels so good...
It was the trip that almost didn't happen. I got to the airport to find the fabulous back-up of delays for flights inbound from NYC and Boston. I asked the gate agent when they'd know if we would make it out for the evening or not. When I told him it was for my 10 year reunion, he said "oh, well you have to go." My reply? "I don't know. At this point, somehow it is losing its lustre."
Some 2 hours late and 20 minutes of the flight crew not being able to fly due to time on the clock we finally managed to leave DC. I was just hoping this wasn't a bad omen of what lied in store.
Groggy and not feeling my normal social self, I was hoping to arrive into a sea of unfamiliar faces to grab my luggage. But then, isn't the theme for the weekend supposed to be the return of familiar faces at every corner? I was quickly reminded.
With an arrival of almost midnight DC-time, I was surprised to encounter DK outside of baggage claim. He asked what I was expecting for the reunion. "Honestly? I haven't got a clue." He'd already run into JW who'd flown in from LA and mistaken him for another of our GHS classmates. JW walked through the door shortly thereafter. I knew the weekend should be amusing to say the least.
Saturday night included the formal program at a church followed by some more mingling at The Furniture Factory. Carless and unable to drive, I felt 15 as my Dad drove me up to the church. Hot.
So what was the reunion like? Interesting. Verrrrrry interesting. I try to keep posts from being too incriminating, so I'll keep with the theme here. Let's summarize it as follows...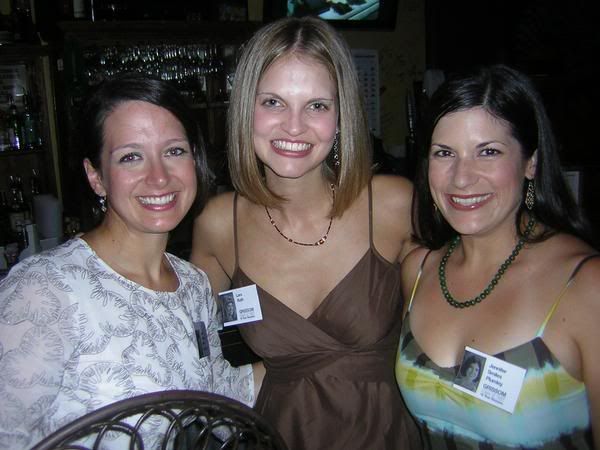 Yes, there were those typical reunion things... there were classmates who'd married other graduates from our class, some who'd changed a great deal, some who looked just like they did in 1997, all the normal stuff. We paused to remember the few classmates who had since passed away. We had one classmate who'd been married 8 years, another with 5 kids, one who is a published author and even a classmate who will be representing Nigeria in the 2008 Summer Olympics. Awesome. We were always a class of overachievers though. And that has definitely not changed.
It was interesting to find everyone friendly with the exception of a select few who were (shock) their normal icy selves. Some things never change. Thinking back to those high school days, there were so many things that seemed to be of such extreme importance that have long since paled in proportion to everything else that has since happened. Guess it just seems odd to find those who still seem to cling to some of those trivial things after all these years.
The program went well... including some humorous class awards and class slideshow (old pics and even before and after pics from senior year class picture to now). While waiting for JSP to kindly give me a ride to point B, I helped clean up. I had a kind offer to be carried down the stairs of the church hall. Now that aspect of having a fractured foot I will miss. I wish I had a dollar for everytime I was jokingly called gimpy. I'd have been able to lay out of work at least for the day today... :-) but sadly, no such luck.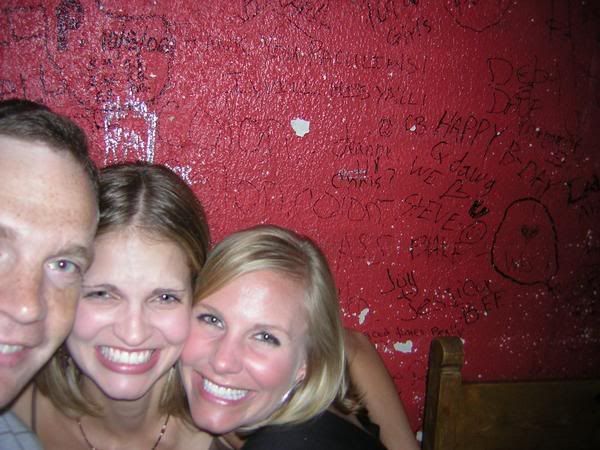 For Huntsville, I'll say the Furniture Factory wasn't half-bad. There was live music and it was much easier to converse with people than the tables during the dinner/program. We reminisced. Talked to people living all over, doing all sorts of things from one end of the spectrum to the next... from running their own business to pursuing dreams of acting. I learned a fellow classmate is in DC and was living only a short walk away from my old place on the Hill, and we're planning to meet up once back in the District. DK helped me to get up on top of the table for an aerial view of our class - who said the cast gets in the way of socializing? I also have an invite for a meet-up in the Big Apple. Love the Deep South reunions up in Yankee land. Perfect.
At 2AM, my dad picked me up. Awesome. At 4AM, I finally crawled into bed - exhausted, pleased, and amused. Sunday morning I woke up to homemade biscuits and Yellow Label. Ahhhh, the comfort of the South.
It was a great weekend. I'm glad I decided to come. I'd said this would likely be the only reunion I'd opt in for but now I'm not so sure. Just might be in for round two in another decade after all... and here's to hoping to more smiling faces to meet up with those occasional times I do make it back to H'ville.