weekend review: when brunch *so* is a drag, sass style
It was officially the weekend o' sass. I can still say that and smile with a week to go. Friday was Sassy's official farewell. I'm not going to get too sad here. After all, it's soon. But it's never easy to have a friend leave the area - let alone one which is pretty much one of the ones you've known the longest and, oh yeah, was also the roommates. Oh the stories I could tell... but yeah, that goes both ways - so silence is the name of the game ;-)
Friday the Fashionista and I coordinated a farwell for Sassy at the F's place. She pulled out the grill, sans hickory chips this go 'round. Good to see such a great turn out. The Fashionista had written a great poem to summarize our thoughts on the impending adieu...
Our DC times with Sassy have come to an end.
We're so very sad, but wish only the best for our friend.
From kickball to Junior League to random nights out.
Not having Sassy here makes everyone pout.
But Columbus is calling, and she's gonna do well.
We know this move is brilliant, positive, and swell.
So we'll have one empty spot at the flip cupping table.
But LJ said she's gonna learn, and we know she is able.
We promise to gChat and write on Sassy's wall.
We promise to take trips and email and call.
There are so many things we want to say but can't list.
So, this stupid poem's purpose is to say Sassy you'll be missed.
From there, the group split to head on elsewhere for the evening, but all-in-all it was a fine farwell to our good friend, and a perfect beginning to the whirlwind tour of DC and VA's finest orchestrated by my former roommie.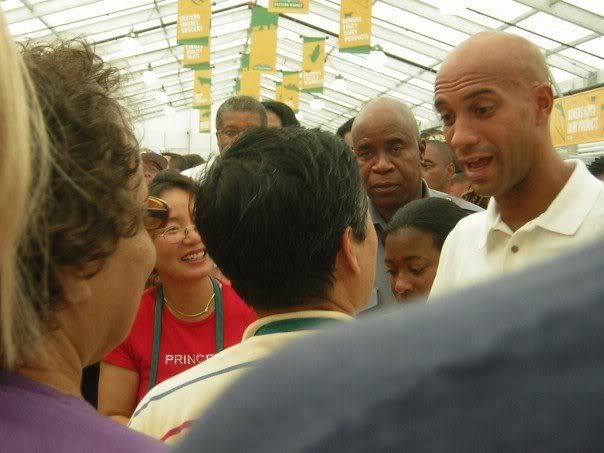 Saturday the goal was to hit the Market Lunch. We'd read a while back that the East Hall was to be reopening in it's temporary new site and we were salivating at the thought of some fantastic piping hot bluebucks at Market Lunch. Sassy, having never had brunch at the Market, definitely made this as a priority addition to her weekend line-up. Upon arriving, we found the Market swarming with patrons, eager to be a part of welcoming the vendors back on opening day. This was further amplified though by the media swarm around Mayor Fenty, who we finally realized was standing just a few feet to our right. We were sad to find upon finally making our way through the mob to the Market Lunch that they were not re-opening until September 15th. So sad. They said they had more work to be done to be ready for full hot food service. Understandable, but sad. it was good though to see familiar faces of the workers. It's nice to see that even all this time later, the team remained the same. And yes, we'll be back.
Sunday, Sassy really wanted for us to hit up the weekly drag brunch at Perry's in Adams Morgan. My co-worker compared the line to get into the brunch to that for Pasta Mia. The plan was originally to meet up at 12:30, but at my co-worker's urging, we revised to 10 to be there before the brunch started. Very smart plan. We were towards the front of the line and were comfortably seated and eating as others were waiting for hours trailing off down the long stairs upstairs to the restaurant. The food was pretty good, some including items that I just can't do for brunch (sushi? a bit much...). They did have grits, which warmed my soul. The show was very entertaining, although I agree with the Fashionista's assessment that it would be a plus if they at least knew the words to lip sync along. Clearly, not the focus of the event. It was pretty funny, although I will say complaints would be the huge lag-time in between many of the numbers, poor lip syncing skills, and poor costume choices on some of the performers who should have been opting to show less of what they have to offer. Highlight though was this cute little girl dancing up on the couch with one of the performers during Proud Mary, although I'm pretty sure I'd never in my life bring my small child to such an event.
After an all-too-quick afternoon nap, we were back off for round two. Last night we were off to Wolf Trap for the Indigo Girls show. I'd almost opted out, thinking the lawn plus a fractured foot might not be the most comfortable combo. I decided though to get my own covered seat and hang with the gang pre-show on the lawn for that fabulous Wolf Trap picnic experience. The picnic was complete with an impromptu reuben Sassy and I grabbed at Giant (where the worker couldn't begin to fathom the concept of splitting a sandwich - insane), smoked gouda, fresh salsa, chewy Chips Ahoy, and of course the screwtop wine.
While there, we witnessed a proposal by a lesbian couple. I had to reflect on the events of the day. I remember a time not too long ago where I would have squirmed a bit at such a sight - primarily due to lack of understanding and the difference between the other party and myself. Watching the couple, their excitement, and noticing the genuine emotions in their eyes, I was a bit puzzled as to how can anyone not recognize that as love. The comments about the crowd composition at Indigo Girls shows is always pretty consistent, but so what? It's an audience of people passionate about music, passionate about causes, and passionate about life. And while my romantic interests may be towards the male gender, I'm fully plugged into the remainder of that line-up.
And what an amazing show. I'd only ever seen them at the first year's Lilith Fair, so I had never seen how a show of theirs would go solo. So many performers rely on flashy lights and set designs to drum up energy for a show. Something has to be said for two women taking the stage, nothing but various stringed instruments in hand with the stage itself bare - not even a rug of sorts in sight, and able to effortlessly energize the crowd. That's what defines a true musician. Amazing.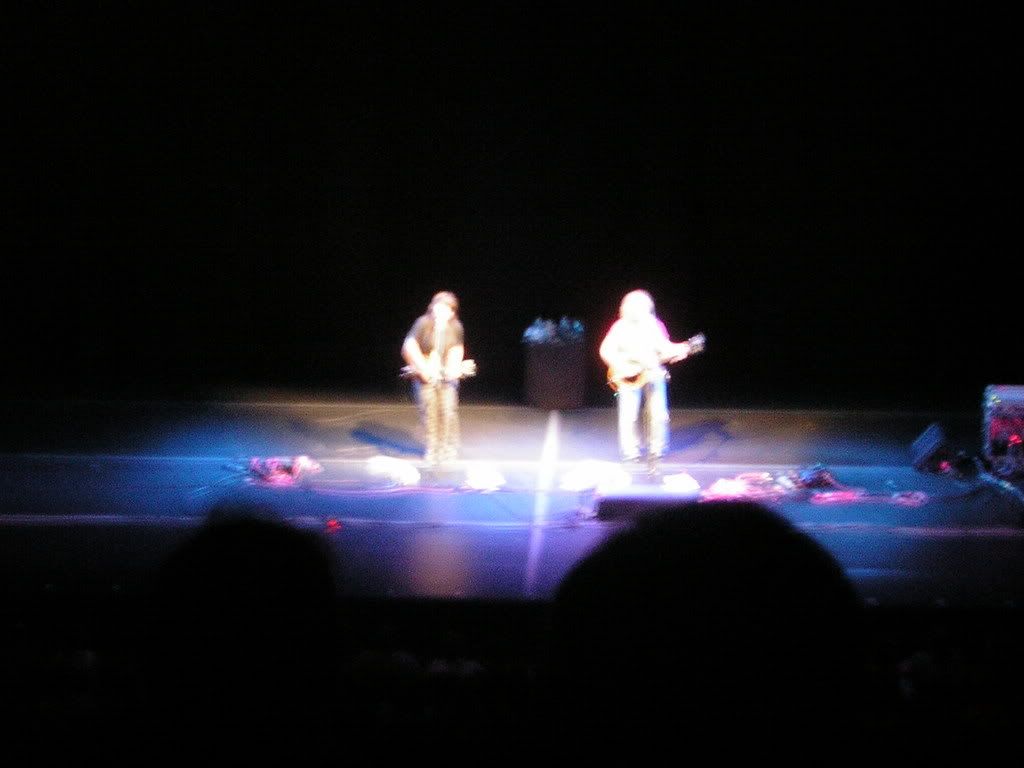 Setlist: Hammer + Nail / Ozilline / Fill it Up Again / Dairy Queen / It's Alright / Devotion / Run / Money Made You Mean / Power of Two / Shame on You / Ghost / Hand Me Downs / Watershed / Chickenman -> Bitterroot -> Chickenman / Lay My Head Down / Three County Highway / Get Out the Map / Little Perrenials / Pendulum Swinger / Perfect World / Closer to Fine / Accoustic Song (?) / Galileo
I loved their closing comment. As we all stood, cheering and clapping, they said, "We really appreciate it. Ya'll give us a good life".
As I crawled into bed slightly before 2 AM, I had to echo the sentiment. What a good life and, hopefully, a great send-off to a great friend...