(long) weekend review: bikini chickens & circus freaks
Sassy and I managed to zig-zag across the DC metro area in fine fashion on Saturday. It was the Hill to Arlington and back (via car) ... and then the Hill to Arlington (Balllllllston, to be precise) and back ... and then out to U Street. Whew. That's a lot of commuting.
The first trip to Arlington was to my personal fave, Costco. Where else can you get inexpensive and yet surprisingly decent 8x10 enlargements and, at the same time, purchase enough jumbo franks + buns to feed a small army? Oh yeah. That would be Costco. This time no yoga apparel or Madonna CDs found their way into my cart. My wallet says gracias. Sassy might not be up for a repeat run though. I learned Costco's not her cup of tea. Well, call it my glass o' Lipton!
We ran home and then shot to the metro to go to Ballston (oh yeah, you know how I do love Ballston). As my response on the Evite said, "Oh my. Do I find myself going to Ballston again?". And the answer was, oh yes. I did. The theme of the party was "Grills Gone Wild". Unlike the last couple of parties, this one was a four townhouse party. Impressive. I'm already envisioning the new heights for next year's Jungle Bash...
The ratio of the party was pretty testosterone heavy... I'm not a great guestimator, but I'd say somewhere in the neighborhood of two to three guys to every one gal. Not too shabby. Perhaps this is why the guys seemed to congregate around (1) the kiddie pool complete with fountain at the center or (2) at the flip cup table, but of course. Sassy to me: "Isn't there something funny about a large group of grown men standing around a table trying to flip a plastic cup?". True... very true. And you all know my thoughts on the sanitation issues of the game. The funny thing was that D had set up this kid's toy called mount tiki-soak-ee... it was this carved face whose eyes rolled back... back... and back until water came shooting out of the top. Hilarious. The funny part was watching the guys playing flip cup trying to figure out why it was that they were getting sprayed every so often.
I learned all about beer can chicken. D had put a chicken on the grill that was cooking this way... it had a beer can um up the back, which supposedly is to keep the chicken moist. I think the chicken was there more for looks. It had a foil bikini that had been ever so carefully crafted. I commented about her defined mid-area divide... perhaps she'd had a C section? Again, based on the crowd (mainly male), this comment received some groans. Oh well. Sassy and I had to head out though to clean up for our evening out with the gals.
We had reservations for dinner at Coppi's Organic, one of my favorites. They were wanting something different and to perhaps head out on U Street, so Coppi's was ideal. We decided to go all out, being girl's night, and pulled out the dresses and skirts. Sassy and I thought we were running late, but ended up arriving before the others. She'd never been and looked at me puzzled as we observed the wait staff in front of us. Hmmmm. They looked like quite a motley crew. One guy looked like a flight attendant. Another girl had on a mustache. Another was wearing some sort of hot pink unitard. Yeah. We were clearly confused.
They seated us at our table and we waited for the others to arrive. Our waiter walked over. Helloooooo... looked much a la Brad Pitt in Thelma and Louise. Many females would die for those locks. As the other four arrived, MsH was smiling as she realized the "fringe" benefit that came with our table as he came back with our drinks. She took one look at his belt and looked up at him and said "nice buckle...".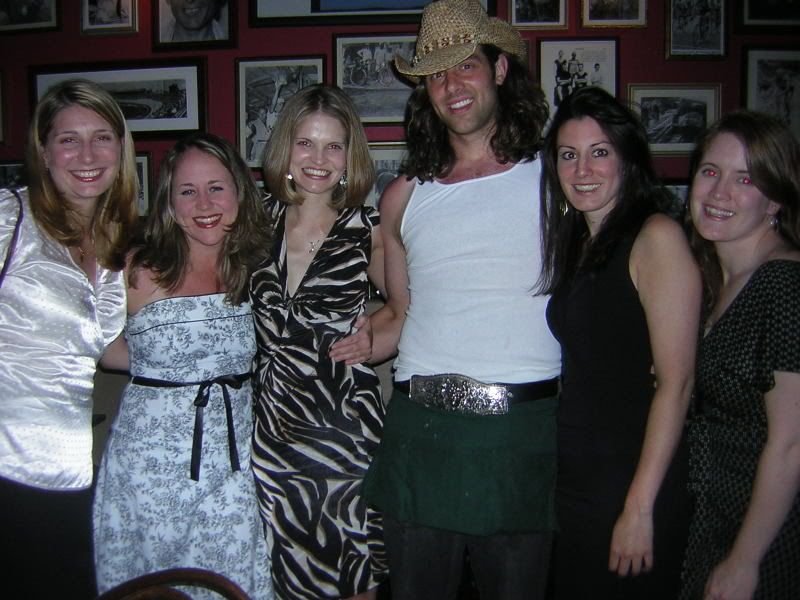 It was then that we finally asked what was the deal with the attire for the evening. We learned that it was one of the wait staff's last day at the restaurant and they were having a going away party for her after they closed that night. They let her pick the theme and she'd chosen circus freaks, which was the reason for the bizarre attire we'd already clearly noticed. "What are you?" MsH asked. We learned he was a Man-Child?!? Apparently he had some Depends in his car and other props to finish off his ensemble. Interesting. Sel had them bring out some raspberry champagne to toast to MsH's recent milestone birthday. She couldn't jet off to Greece then to avoid the moment, thankfully! We had him take a picture of us all as a group, before making sure to snag one with him as well.
From there, it was off to Cafe Saint-Ex (thankfully, uneventful -- another story for another time) and then Sassy and I made a pretty early exit. What a fab night out with the ladies!
Sunday Sassy and I had the gang over to our place to cookout. There was a chance of rain, but that had been the case for days so we decided not to let that rain on our parade (hah). People started to arrive, but we didn't want to rush too much into cooking as to allow others to arrive. We were down on the patio contemplating if we should start when winds flashing me back to my South Florida days started to pick up. Hmmmm. Perhaps we should get on it, we thought, and I ran in for the meat. We frantically threw a full round of burgers and hot dogs on the grill and started cooking.
We'd made it through the first round when the drops started to fall. Within about five minutes, the patio had begun to clear out, with only poor Seattle and Dr. P down manning the grill. Dr. P would later come in and it would be Seattle and Sassy holding down the show. It was quite a sight, Sassy holding an umbrella with her rain jacket on as Seattle kept the food a' coming. [Picture coming shortly]. I think Sassy and I are officially ready to grill away in the coming months.
Yesterday was all about relaxing... the pool in Georgetown had my name on it. Now I'm officially beach-ready. Just the little detail of these three pesky work days in between, otherwise known as Tuesday, Wednesday, and Thursday. Ick. May they pass quickly. Mentally, I'm already in vacation mode.