make love, not war
The nice thing about being on vacation with your parents is that, in general, you can feel completely comfortable, relaxed, and no need to spend the typical time and energy to get all done up before heading out.

The winds were slightly less ferocious today, but yesterday they were pretty rough. I gave up, pulled my hair back into a poneytail, and we headed out for dinner. Destin has built up so much from where it was 10 years ago. The strips of restaurants and stores just go on and on. Impressive.

Among the restaurants is a new (to me) Hard Rock Cafe. I don't know if I've mentioned, but I collect pins wherever I go, so had to get one here. Got a flip flop guitar pin. Very appropriate.

We ended up sitting at the bar and grabbing a quick bite to eat. While there, we were quite amused by the bar tender. He was quite a loud mouth. One minute he was singing along with the music and the next he would be putting together a fancy cocktail, much a la Tom Cruise in Cocktail (except hmmm much less refined than TC ... perhaps less teeth too?).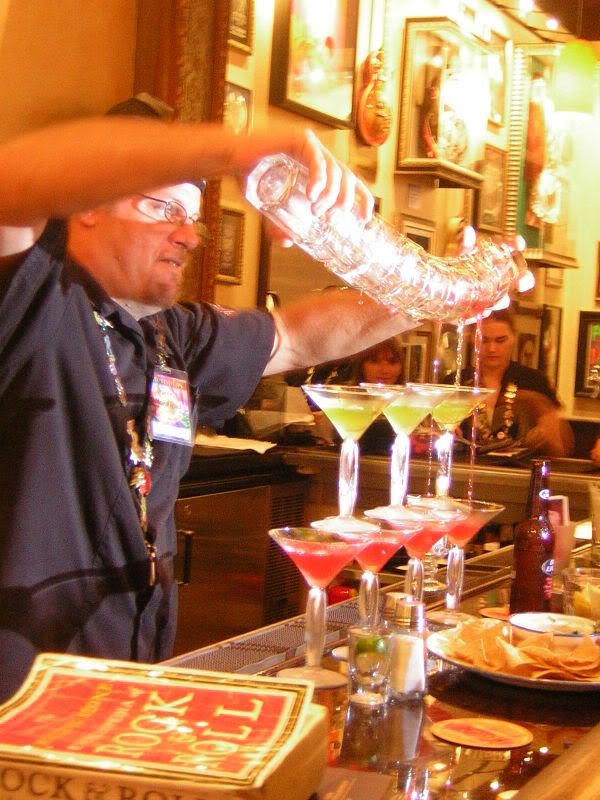 The highlight was his stacking tiers of margarita glasses and concocting two different colored drinks - bright orange and bright yellow - and pouring it into the glasses. He then passed the glasses out to the patrons at the bar. Noticeably missing one for someone. Ehem. Me. My mom was amused, sliding me hers. We caught his attention. How old did he think I was? 19. Guess that's what happens when I dress so fancy for the occasion.